LearningLand uses meal pattern guidelines from USDA.  Sometimes changes are made to these menus simply because young children do not like the textures of some foods or not accustomed to foods that have not been introduced at home.  We want your child to look forward to mealtimes and will make substitutions in the menu if certain items are not well accepted.  Any changes in the menus will always be announced in advance. 
Each child must apply for free or reduced lunch by completing the necessary form and returning it to the center during the initial parent conference.   Information collected from this form is confidential.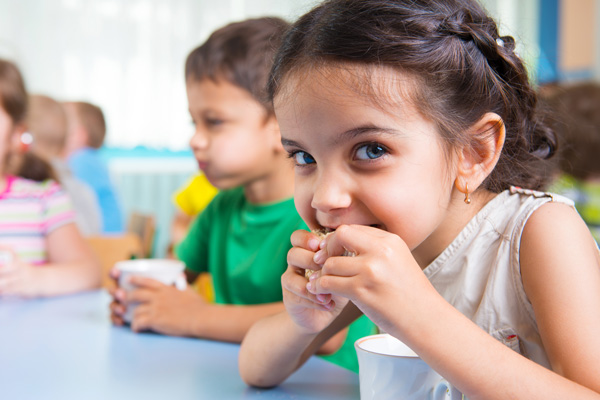 This meal pattern applies to children 3-5 years of age
Breakfast
Breakfast must contain fruit, grain and milk.
Monday - Fresh Bananas • 1/2 Waffle • Milk
Tuesday - Fresh Orange Segments • 1/2 English Muffin • Milk
Wednesday - Fruit Cocktail • 1/2 Biscuit • Milk
Thursday - Fresh Strawberries • 1/2 Bagel • Milk
Friday - Oatmeal • Fruit Cup • Milk
Lunch
Lunch must contain 1 meat or meat alternate, 2 fruits or vegetables or one of each, and milk
Monday - Chicken Noodle Soup • 1/2 Grilled Cheese Sandwich • Raw Broccoli w/ dip • Milk
Tuesday - Fish Sticks w/ Fruity Dipping Sauce • Cole Slaw • Peaches • Milk
Wednesday - Black Bean & Corn Quesadila on Soft Tortilla • Pear Slices • Milk
Thursday - Spaghetti w/ Meat Sauce • Peas/Carrots • Garlic Bread • Milk
Friday - Grilled Chicken Pita w/ Lettuce & Cheese • Baked Butternut Squash  • Milk
Snack
Snack must be at least 2 of the following: 1 meat or meat alternate, 1 fruit or fruit juice, 1 vegetable or 1 milk
Monday - Cheese Sticks or Fresh Pineapple Slices • Juice or Milk
Tuesday - English Muffin Pizza w/ Cheese • Juice or Milk
Wednesday - Celery or Pretzel w/ Peanut Butter • Juice or Milk
Thursday - Yogurt Mixed Fuit Cup • Juice or Milk
Friday - Blueberry Muffin or Apple Slices • Juice or Milk